Elkar Records have grown a massive catalogue of Basque music. John Potter meets their founder
Folk Roots aldizkaria

|

2018-01-15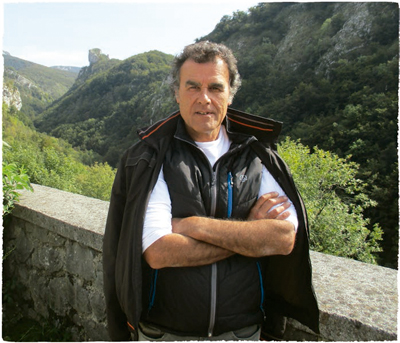 I'm in a wood at the foot of a mountain in the Basque Country with Anjel Valdes and he is looking for mushrooms. It's a passion of his to walk in the silence of this spectacular scenery in Gipuzkoa province and a bonus if he can collect some big mushrooms along the way.
But this isn't why we're here. Valdes has been producer and coordinator at Elkar Records for 30 years. He has chosen to talk to me about it all in one of his favourite locations in the south of Euskal Herria (or Basque Country) which straddles part of northern Spain and south-west France. Elkar (it means 'together') has long been promoting Basque music, language and culture, and the purple and yellow logo on their shops is familiar throughout the region.
Valdes explains: "Elkar Records was founded in 1972. We began with literature and books and then started working on music and traditional songs, all in the Basque language, first with singers from the northern part of the Basque Country. Elkar began in Bayonne but then came to the south at the beginning of the '80s." Their recording studio is based in Donostia-San Sebastian.
"We have a very important catalogue of music that now has more than 1,300 releases. Songs express the culture of the people, their dreams, and in our case the most important compositions speak about freedom and love and territory. And so if you put all of our tracks and recordings one after the other you can tell a very good story of our culture and our development."
My own first encounter with Basque music was through this very magazine in the late '90s through the phenomenon of triki-pop. Traditional trikitixa (accordeon) and panderoa (tambourine) music had been given a new lease of life by the addition of pop rhythm sections and young bands such as Maixa ta Ixiar and Alaitz eta Maider were quick to attract listeners, including me. My first long distance contact with Anjel Valdes was at that time and he has been sending me review copies of albums ever since.
Although trikitixa is still a vital ingredient of much of the music, there are many other popular styles and new singers and musicians appear all the time.
But let's go back to the beginning. "We can find our roots in traditional instruments and singers and we must speak about Oskorri, a very important band that finally disbanded two years ago. They did their last concert in Bilbao and we released a special album with a DVD. Mikel Laboa is also an important singer in our catalogue as is Benito Lertxundi and some others who began their careers in the 1960s and '70s. The passing of time has given them authority. Benito Lertxundi is now 76 years old and he continues recording and giving concerts. After him comes Ruper Ordorika who was from a new generation closer to a pop and rock style. Ruper is a very good songwriter who writes lyrics in a special way that connects with people. His last three albums are remarkable and very important for me. Mikel Urdangarin is another very special singer from a younger generation."
Valdes is a philosophical man who thinks deeply about the wider issues and implications of what he does. "The most important thing is always the artist and the song. All of us need to be consoled and music offers us one essential way. If you have made 1,300 productions you will find some albums among them that are very, very important. So my work is to listen to the artist and to coordinate the ideas with my team."
"I've learned that it's better to continue than to win. You can win once or twice in your life but if the moment arrives when you have to disappear it is very sad. So sales are never the most important thing. The continuation of our work regardless of sales is what is most vital. It's not possible to work in this job if you don't like the music. People need freedom and we need love and freedom and we need dreams and this is the essence of the songs, of the poetry. I think that we must believe that someday the world will be changed, like we thought in the '60s."
The Basque language, known as Euskara, seems to be unrelated to any other language and is possibly the oldest in Europe. There are around one million who understand and speak it while 400,000 use it as their first language. With a language not even spoken by all Basques does this present an obstacle to wider recognition? "There is great music everywhere" says Valdes, "in Cuba, in Okinawa, in Africa and so on. We are just a small territory in Europe and we aren't expecting to achieve a lot of worldwide attention. For now, it's just important that we try first to spread these
songs and music among the Basque people."
 "I want to say strongly that songs are the last guardians of the culture – and even if people don't understand the language they will recognise the songs."
www.elkarargitaletxea.eus
(Iturria: Folk Roots aldizkaria)